The Just Lift Fitness Team
CSCS-NSCA, USAW, NESTA Certified Personal Trainer
MBA, BS. Exercise Science
Jackie Errico has been in the fitness industry for over 13 years. She has her Bachelor's in Exercise Science and her Master's in Business Administration. Jackie is a nationally certified strength and conditioning coach, a certified personal trainer, and co-owner of Just Lift Fitness.
Jackie started her career training Division I NCAA athletes. After years in the training world, she started her own business, focusing on people who want to make a lifestyle change. This has included a variety of people, including high performing CEOs, adults training for races or triathlons, and the parents who want to be at peak performance for their careers and family.
If you know your WHY, we can create a focused path to a healthy lifestyle. Jackie is here to help you navigate the journey to an even better you.
"Confession: I like to make people feel uncomfortable.
Making people uncomfortable provides them an opportunity to show growth and to outperform their personal best! I've seen it in the NCAA athletes I've coached, in the high-performing CEOs, and in the Mom or Dad who wants to be at peak performance for their family and careers.
I love to focus on your WHY. It is the most important question for you to answer. Here's the thing – if you know your WHY, we can create a focused path to a healthy lifestyle. I'm here to help you navigate the journey and obstacles thrown at you. Obstacles give us the opportunity to show what we're made of. In 2020, I started a business right before the pandemic and then married my wife a few months later. It was a roller coaster year, to say the least, but I came out of it stronger than ever. So, let's show off those biceps; tone up that mindset; and, reimagine your future over a kale smoothie (honestly, I have an amazing recipe for you)!
Thank you so much for being here!"
NSCA Certified Personal Trainer
BS. Exercise Science
Linnea Lones has worked in the health and fitness industry since 2012. She has her Bachelor's in Exercise Science, is a NSCA certified personal trainer and is a Co-Owner of Just Lift Fitness. Being a two sport collegiate athlete led Linnea to a continued desire to be a part of a team after college. This field was her calling her name and her ability to empathize and interpret what the human mind and body needs is why her clients trust her.
She has been blessed to train a wide variety of individuals, which allows her passion of coaching to take many different avenues. Her privilege of being both trainer and trainer developer, has allowed her to give immediate feedback and assistance to her clients and team to achieve daily goals.
Being a part of a highly qualified training staff, using all types of modalities, allows not only our team but our clients the best results and experience.
"Hey! I am going to let you in on a little secret – you're not done yet.
You're not done with creating a new look, accomplishing a new goal or even adopting a healthier lifestyle! My goal is to have the most positive impact on the lives of the people I work with. This goes beyond what they see in the mirror, it's changing their internal dialogue, their intrinsic motivation, and their lifestyle.
Whether you've never exercised before or you're looking to be coached, I am here! Give me your trust and I won't let you down. Let me map out a journey that you enjoy being on. We get to move. We get to live. We get to lift. Now, let me help you push past that fear to a better version of YOU!"
Certified Personal Trainer
Certified Personal Trainer
A.A. Culinary Arts
Becca Kemnetz has been in the fitness industry since 2013. She has her A.A. degree in Culinary Arts and is a Certified Personal Trainer. She played volleyball from third grade until college, coached for a few years and have always had a drive to do more.
Becca started her career in the Fitness industry in a small studio teaching generic "bootcamp style classes" and then went on to training individuals of all different populations. She took a small hiatus when she became a mother of a beautiful baby boy but did not hesitate when she had the opportunity to get back into the training world.
Now, understanding the body even more after being a mom, and having her background knowledge in fitness and nutrition, she has a well-rounded balance of being able to specialize in any area of expertise.
"Hi! If you know me at all, or not even a little, you will learn that I LOVE to get you out of your comfort zone. With that being said, I will slowly make you realize that health and fitness is a LIFESTYLE.
Growing up as an athlete my whole life, creating some unhealthy habits through-out my journey, and then overcoming those difficulties later on in life, I have nothing but experience in mastering my own craft and I can help you do the same!
Nothing makes me happier than hearing your success stories, so let's talk nutrition (my favorite), fitness (even better), and begin a new healthy and HAPPY road to reaching those goals!"
Certified Personal Trainer
Certified Personal Trainer
B.A. Exercise Science & Psychology
Nicole Elliott has been in the health and fitness industry since 2015. She has her B.A. in exercise science and psychology and is a certified personal trainer.
Nicole started her career in a chiropractic and physical therapy setting and eventually found her calling in fitness. This gives her a unique ability to keep all of her clients feeling their best and tackling any aches and pains they encounter along the way. She has also trained a wide variety of individuals over the years which makes her well equipped to handle anything you bring her way.
Nicole is here to help you with your personal fitness journey, no matter what your goals look like.
"Fun Fact: I hate cardio. Yep, you read that right.
Running a couple miles on the treadmill sounds like about the least appealing way to workout to me. That only means I come up with far more creative ways to get my heart rate up, and I'll do it for you too. Do you want to feel strong and empowered? Perfect! Let's lift some heavy weights together!
Let's be honest here, I know not everyone loves working out. But my favorite part of my job is finding ways for every single person who walks through the door to enjoy coming to see me. Because guess what-if you find something you enjoy about working out, you won't quit. And that's what it's all about, finding a way to make your fitness journey a sustainable way of life.
So, take the plunge. Come on in. And let's see how we can start your healthy lifestyle. I promise to share all of my favorite tips and tricks and make you wonder why you didn't do it a long time ago."
Certified Personal Trainer
NASM Certified Personal Trainer
AIM Certified AA Liberal Arts
Rachel Dangler has been in the fitness industry since 2016. She started training and taught Boot Camp and HIIT classes since 2019. She has her A.A. degree in Liberal Arts and is a Certified Personal Trainer. Growing up she played sports including ice hockey, volleyball, softball and basketball.
Currently she is pursuing a certification in Corrective Exercises with NASM and strives to learn more each day to be the best at her craft.
Spending a good part of my early life sitting, in 2014 I experienced a back injury. I thought I was healthy, but was not strength training or matching my nutrition with my goals. I changed my daily habits and lifestyle, which included eating MORE and doing LESS cardio and more weights! I've been pain free for 8 years and am stronger now than I've ever been!
I love seeing fitness become a part of people's lives because it not only helps them keep their results, but truly changes them from the inside out. It's an incredible transformation; people not only become healthier and stronger, but also more confident and the best version of themselves!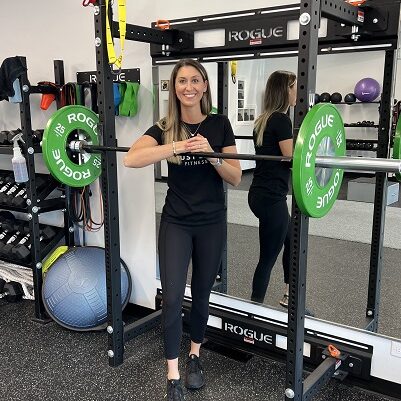 Fun fact: I love taking challenging moments in life and turning them into a positive! I used to hate core work, it was my weakest exercise. After a mentor in my life challenged me to work on the weakest part of my workouts, core has now become my strength!
Sports Performance Coach – Just Sports
TPI Certified
BA Exercise Science
Phil Pedi has been in the fitness industry for over 12 years. He has a Bachelor's Degree in Exercise Science and Physical Education, from Elmhurst College. Phil played quarterback at Elmhurst College and then continued to follow his passion in sports by coaching at the youth, high school, and collegiate levels for baseball, softball, football, basketball, and golf.
Phil has owned his own sports performance training facility in the past. He has worked, in both, the private and corporate sectors of the health and fitness industry. He has seen it all and coached it all, and has finally found his home at Just Lift Fitness creating Just Sports, which is an athlete focused developmental program.
Phil's biggest passion is being able to help someone accomplish a goal they set out for themselves and reach heights they could never imagine they would. This truly fulfills his life, and why he has chosen to make coaching his career.
His goal is to inspire the next generation to believe in themselves, to take chances, to have respect, to work hard, and to know someone cares about them. Impacting the youth by giving them the confidence to reach for their dreams.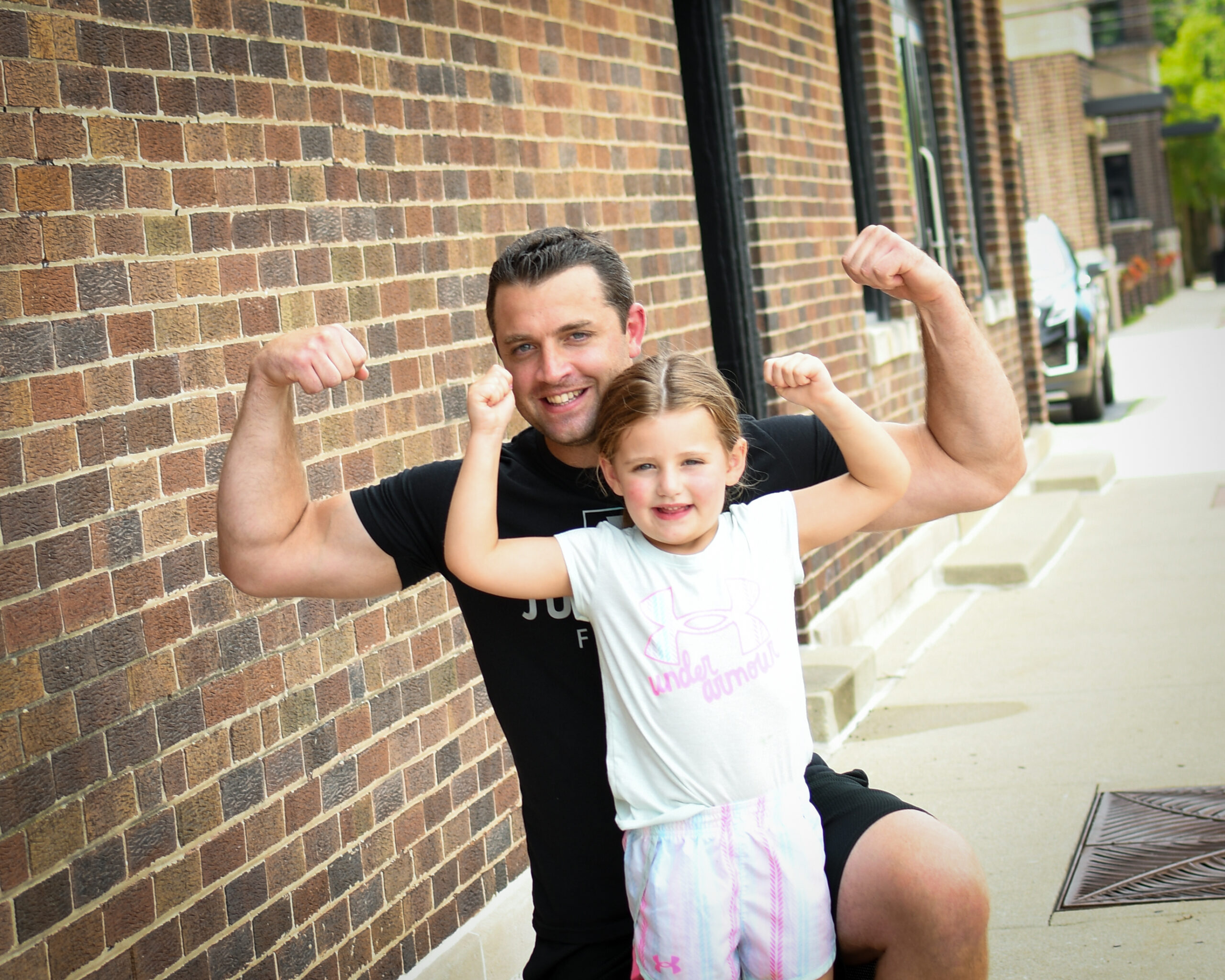 "A good coach can change a game. A great coach can change a life"
-John Wooden-
Director of Community Relations
B.A. Business Communications & Management
Nicole Stork has been in community development and sales for over 20 years. She has her Bachelor of Arts in Business Communications & Management, and started her career in banking and cash management. After ten years she decided to stay home and raise her family.
Nicole volunteered on various school PTC Executive Boards and led various fundraising events and activities. In 2017, Nicole found trainers Jackie Errico and Linnea Lones and started training with them. Within months her body, diet and mind set improved and went through a complete metamorphosis. Nicole found her "why" while training. She wanted to feel better in her clothes, have more energy, remain active for decades to come, but also improve her outlook and mental health; it literally changed her life. She found her "why" fulfilled training with Jackie and Linnea.
After five years of training four to five days a week, Jackie and Linnea asked Nicole to join their team at Just Lift Fitness as Director of Community Relations. Nicole enjoys organizing events in the community, doing client outreach, and encouraging other people to find their "why" and change their lives with Just Lift Fitness.
"I love people, and I love bringing them together into communities where we all support and help each other!
I enjoy talking, laughing and crying with anyone willing to share their story, especially while lifting weights! Health and wellness is a journey and it's so much more inspiring and fun when you do it with trainers who not only are experts in their field but amazing souls!
Come start your journey and lift, laugh and find your 'why' with us!"